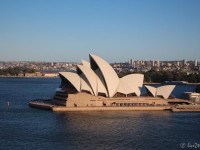 Sydney is the largest city in Australia and we liked it there super. We even had a personal guide. Seppel Kumpel Stefan, They know each other since kindergarten, lived here for 4 years and could therefore show us much of Sydney. DC the day after our arrival we met with him and walked on Sydney Harbour (Port Jackson) along. From here you have a great view of both the city's landmarks, Opera House und das the Harbour Bridge.
The next day we had unfortunately rainy weather, but what was good, as we had to book for New Zealand and the next flights a camper. Thus we spent most of the day "at home" the Internet. We again had wanted a room on AirBnB. Luckily we had just explore a rainy day and then were able to get back together with Stefan Sydney. We looked at the small Chinatown, the festively decorated Darling Harbour and the Royal Botanic Gardens at. From here you have a beautiful view of the city skyline.
Even Sydney's beaches we visited. The "Clifftop Walk "took us to walk from Bondi to Coogee Beach along the coast. And of course it also went to the Sydney Tower to get a picture from above to make. Unfortunately, you could not see as well the opera house from there, because it is hidden by skyscrapers.
After the weekend we made a trip with the train in the 2h remote Blue Mountains. In the forests of the Blue Mountains, there are many eucalyptus trees. Their leaves evaporate a volatile oil, which is like a fine mist over the mountains and blue shimmers. For this reason they are also called "Blue Mountains". We wandered through the Blue Mountains and their forests, past waterfalls, Streams and the "Three Sisters" (these are three rocky peaks side by side).
On our last day in Sydney, we strolled through the city and over the Harbour Bridge to the other side of the river.
Unfortunately, it was already after 7 days goodbye to this beautiful city. Stefan took us to the airport in the morning and we were on our trip in the next country, to New Zealand.
Thanks again to Stefan, who took such good care of us and has led us into many beautiful corners of Sydney!